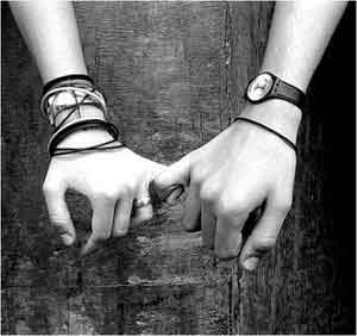 I'd love to believe that soon the unconquerable forces; God, fate and the universe, will unite to ensure that I meet "The One". And from that moment on two individual stories will become forever one. Sadly I don't believe in "The One". I wrote about
why
a while back, however I recently read a quote that sums up exactly how I feel on the matter….
"People think a soul mate is your perfect fit, and that's what everyone wants. But a true soul mate is a mirror, the person who shows you everything that is holding you back, the person who brings you to your own attention so you can change your life.
A true soul mate is probably the most important person you'll ever meet, because they tear down your walls and smack you awake. But to live with a soul mate forever? Nah. Too painful. Soul mates, they come into your life just to reveal another layer of yourself to you, and then leave.


A soul mates purpose is to shake you up, tear apart your ego a little bit, show you your obstacles and addictions, break your heart open so new light can get in, make you so desperate and out of control that you have to transform your life…."

Elizabeth Gilbert, "Eat, Pray, Love"
Just like
soul mates, come into your life just to reveal another layer of yourself to you, and then leave,
I believe the same for "The One". They come to teach us what we need to learn and then depart, leaving us broken in all the right places. After they leave we meet "The One that counts", a person who we love just as much, but differently.
There is a part of me that would like to genuinely believe in "The One" in the way everyone else seems to. To belong to that tribe filled with optimistic romantics who believe they will meet their soul mate. In the hope of being convinced otherwise I recently asked a friend, "Do you believe in the one?
"Yes I believe in the one"
he answered
"But you have to be ready for them when they come"
His answer didn't surprise me, but you know what got me thinking? The
"you have to be ready for them when they come"
part. Because whether you believe in "The One" or "The One that counts", being ready still matters.
Funnily enough the concept of being ready is rarely mentioned when people speak about "The One" Perhaps it's because we're made to believe the pivotal point in our journey with "The One" is the first meeting. That moment when two people lock eyes and instantly know they're meant to be together. However what if the pivotal point isn't the moment when we meet "The One"? What if the real pivot is what we did with ourselves before that moment? What if happiness with "The One" doesn't hinge on the moment, but in the sequence of events prior to it?
You see whether you believe in "The One" or "The One that counts" I'm convinced in both instances, what matters isn't necessarily whether we meet, but being ready when we do. Which is the opposite of what we've been taught. We've been taught it's all about finding them. That's why so many of us are obsessed with finding "The One". We read self-help books on the laws of attraction, sign up to online dating sites, trawl Farcebook…. Not that there's anything wrong with that. But doesn't it seem a bit futile?
Even if you're successful in the "finding" part, when the relationship eventually implodes we conclude there was something wrong with the other party. Our friends prop us up with platitudes like
"There's something better around the corner babe"
,
"Sometimes good things fall apart so better things can come together"
,
"He was an asshole anyway"
All (probably) true.
So we pour our energy into recovering from our heartbreak and eventually return to the "finding" stage. When we return to our finding adventure, we're not that much different from the last time we embarked on it. We've learnt nothing from the last time (unless of course you count the excess emotional baggage)
The truth is many of us (myself included) have been guilty of doing things back to front. Expending energy finding "The One", when we should be investing in ourselves and trying to get ready. So how do you get ready for "The One"? Well I can't give instruction on how to get ready for "The One" (or "The One that counts") simply because I am no counselor. If my EBay addiction is anything to go by I should urgently seek counsel.
Sidebar: I was recently devastated when at 1am in the morning I was outbid on a saddle. And no I don't own a horse.
Plus if I gave instruction on how to get ready for "The One" it'd be stuff like
1) Meditate to India Arie's "Ready For Love"
2) Brush your teeth and tongue thrice a day.
3) If you intend on getting drunk in public and wearing a dress with a plunging neckline, use lots of tit tape.
4) Google/Facebook stalk the heck out of men you fancy.
5) Stay waxed.
Which isn't very useful is it? So I won't. However I have noticed a common thread running through all those who claim to find "The One" or "The One that counts".
They're the type of people who believe they're so worthy of love, they started by intensely loving themselves. They were never halves waiting on "The One" to make them whole. They didn't believe another man or woman had the power to complete them. They completed themselves.It's not as if they were narcissistic, they just truly believed they were sufficient alone. And that's why they attracted someone willing to walk the journey of life with them. Perhaps the key to being ready is finding "The One" in yourself first.....
Love & Light
Christiana
Xxx
P.S Merry Christmas in advance. I hope you all have a day full of light, love, food and drink. Love to you and yours : )