African celebrations are no ordinary affair. They're elaborate occasions overflowing with food, drink and people.Though the celebrations will vary in size and degrees of opulence, there's a common strand running through all of them. Whatever the occasion, whether it's a wedding, christening,or some 'uncle' being bestowed with a chieftaincy title for an arbitrary reason, the entire family will wear matching attire.
As a child who wanted every opportunity to express her 'uniqueness', I attempted to rebel against this tradition. I was informed I couldn't because the whole family wearing the same fabric was an outward sign of our common identity and sense of unity. I've come to realise as beautiful as that sentiment was, it's nothing more than a romantic interpretation of a simple fact. Africans love to dress up!
As I grew up and developed a greater appreciation of my culture, wearing African fabric wasn't something I was forced to do, it was something I wanted to do. However I struggled to find contemporary African designs that suited my tastes and until recently the concept of trendy ready-to-wear African influenced clothing, was a distant dream.As such, when I stumbled across a picture of Fergie from the Black Eyed Peas wearing an ankara playsuit, I immediately began to investigate. I discovered it was from a label called 'Boxing Kitten'.
Created by Maya Lake, 'Boxing Kitten' is a ready to wear line that blends traditional African prints with edgy designs. In many ways 'Boxing Kitten' has become one of the leading brands in a niche that I do believe will go mainstream. By catering to the offspring of African migrants living in the diaspora, it fills a much needed gap in the market. However by sheer consequence of its mainstream appeal, it is for any woman who loves beautiful clothes made with vibrant fabrics.
I recently had the pleasure of interviewing Maya and here's what she had to say.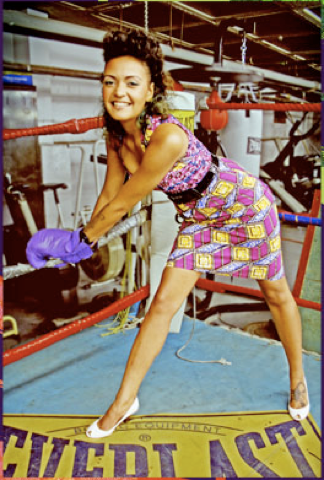 Designer Maya Lake
Hi Maya, firstly thank you for taking the time to speak to us here at Christiana Rants. What motivated you to create Boxing Kitten?
I can't say that any one moment motivated me to create the label. It felt like a natural progression for me to start something of my own that I could share with everyone else. Creating art, and feeling inspired I guess is what keeps me motivated.
There's a definite African influence within the Boxing Kitten aesthetic, in particular the use of Ankara. What was the reason behind this?
The Textiles that are used in the collection are so vibrant, unique, beautiful, and inspiring. Initially I wanted to create an representation of what two different women, from two different generations, and movements would look like if they came together. Women involved in the Black Power movement often wore, Ankara, Khangas and Kente along with other African textiles. That's why I initially chose to use the fabric.
Boxing Kitten has been worn by celebrities such as Beyonce and Fergie from Black Eyed Peas, were you surprised by how quickly it's all taken off?
I am so grateful and equally amazed by the amount of support and love the line has garnered. Its very rewarding and humbling to see the way people respond to the clothes.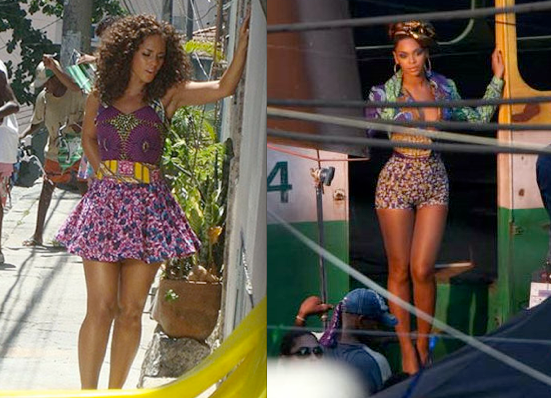 Alicia Keys & Beyonce wearing Boxing Kitten on the set for 'Put it in a love song'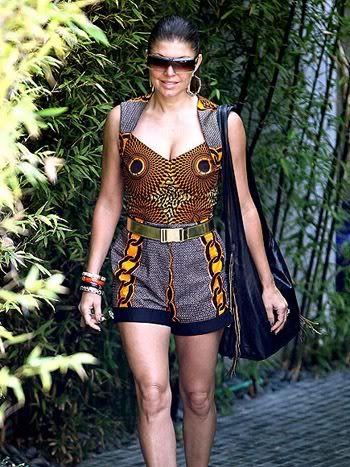 Fergie wearing a Boxing Kitten 'Eartha Short'
Many of my readers are making the transition between young adulthood to building a solid career. As a young entrepreneur what advice would you give to them?
Keep moving forward. No matter what. It's easy to get stuck, feeling stagnated is never helpful for creativity. Find something that can keep you motivated and just keep moving.
Your resume is quite unique for a designer as your degree is actually in African American studies rather than a fashion related subject. Has being self taught worked to your advantage or disadvantage?
Being a self taught designer is very empowering for me. I respect people who know exactly what they want to do, and can go to school to study their craft or subject of interest. But that wasn't exactly my path. I can't say if it has served me or held me back, but I do think it makes my perspective unique.
Are there any plans to bring the latest Boxing Kitten collection to the UK?
Yes. I don't want to reveal too much, but it would be amazing to be carried internationally.
What's the inspiration behind the current collection?
The current Resort 2010 collection is specifically inspired by Josephine Baker. All the pieces are named after her movie roles, and female lovers, the most notable being Frida Kahlo; hence the Frida Jumpsuit. Her burlesque performances, sense of humor, and the way she challenged people to view sexuality all inspired the collection. This collection has a very bedroom vibe with all of the bustier elements, and it also plays with some masculine elements.
Finally, what do you see in the future for Boxing Kitten?
The future is to expand internationally and hopefully more collaborations with other artists. I also just look forward to evolving and growing the awareness of the line.
To see more & order apparel visit www.boxingkitten.com . For instant updates follow Boxing Kitten's Twitter account @BoxingKitten
Thanks to the lovely team at Boxing Kitten I have a skirt from the latest collection to give away.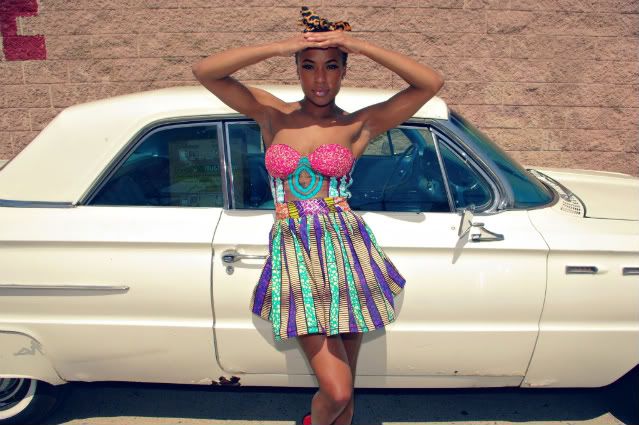 Yes that fabulous skirt in the picture! It's so gorgeous my friends have been offering me very tempting bribes in exchange for it. Due to how much I love you all I've thus far managed to maintain my integrity
.

Sidebar: The size being given away is a

medium

in order to cater to as many people as possible.
The competition is open to UK residents only.
To enter, follow me on Google connect,
Twitter
, Blog Lovin or become a
Youtube
subscriber (click any of the related icons on this page and it'll direct you straight to the relevant site). If you're none of these, do take the time to become one! Leave a comment on this post and crucially
your email
. The winner will be chosen at random and I'll announce the winner in next week Friday's blog!
Christiana
xxx