Happy Friday!!!
Ok! So I'm back video blogging.... : ) I took a 'youtube sabbatical'! I know I'm giving my disappearance an unnecessarily grand term. The truth is ....well 'it's complicated'
Sidebar: Why has Facebook made the term 'it's complicated' so cliched?
The fact that I felt I had nothing substantive to say combined with a plethora of other factors, underpins my period of silence. But I'm back. Video blogging . In my room, where there are clothes strewn on the floor whilst I try and sort them out for my online sale. As always your comments, feedback and support will be appreciated. These vlogs are the results of personal thought experiments. I rarely 'share' what I'm about to vlog with anyone, as they're impulsive.
Sidebar: I get comments on why I'm so 'dressed up' in my videos. Truth is I 'dress up' even when I go to bed. More importantly I'm yet to 'dress up' (to my standards of dressing up) in any of my vlogs. Pah! Life is too short to live it wearing raggedy clothes.
Keep your character pure & your clothes fly!
My motto
Anyway! As I tend not to ask others opinions on my vlogs before I post them, invariably I miss something really substantial or fail to mention a valid counter-argument. Time constraints (I think long vlogs become more ineffective with each extra minute) and the fact I (still) find it a bit weird to conduct a conversation with my laptop, means the vlogs are subject to error. But from those errors and your input...I'll learn : )
Oh my gosh.
Before I forget....With a heavy heart...
I am selling these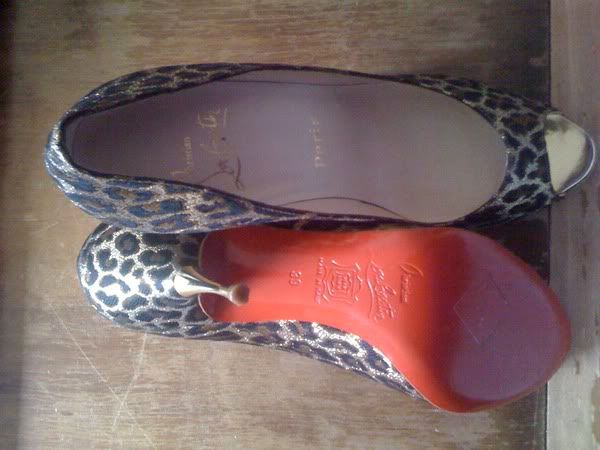 They are a (small) Size 39, Christian Louboutin's, Leopard print, 3.5 inch heel, £200. They haven't been worn.
You wouldn't believe
the story behind these shoes. To cut a long story short, I cannot defy science. My feet refuse to shrink/they refuse to be expanded and they need a good home. They are currently languishing on a window pane. Desperate for a loving mother. Email me if you're interested!
On that note....I must be off. I hope you all have a wonderful weekend and I'll see you Monday!
Christiana
xxx