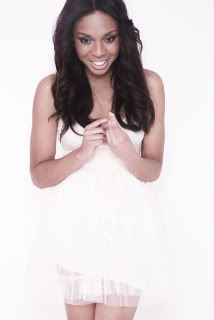 Photography, Joanna Banach.
Tutu: H&M
Chain: Vintage
Happy Thursday,
I go away tomorrow for my Christmas holiday with my family and I honestly cannot wait. My parents have a habit of renting villas that claim to have wireless internet connections…then don't. Consequently I spend the whole trip on edge because…
Me + No Internet + Roaming Charges = Crazier than usual
As per usual, it's 24 hours before my flight…
I haven't packed
I haven't done the family sightseeing itinerary.
I'm supposed to going to THREE parties this evening. So inevitably I'll get back home early tomorrow morning, pack, shower then head straight to the airport.
I'm paranoid about leaving hair products in my suitcase (I have an irrational fear that my suitcase will get lost in transit) so I'm trying to figure how I'm going to sneak liquids on the plane.
Sidebar: Last year I had to perform a weave extraction upon landing so I had scissors on me. Somehow I managed to outsmart airport security and get the scissors on the plane. …(don't even ask how I did it)
Despite the protestations of my parents that 'this time it's different', I just know there won't be any wireless. Ergo this is probably my last official blog post of twenty-oh-nine. Shoot, it's my last blog post of the entire decade!
When I started blogging in July last year I never envisioned that
a) I'd be blogging over a year later
b) This many people would be reading
Yet If I had to sum up my 2009 in a word, I'd use 'uneven'. It has been a year of many highs and lows…
The highs were things like graduating (BA Hons baby!) from a university that's now ranked
fourth in the world
: )
Watch the hits on this site increase, month on month.
The positive reception to my vlogs, filmed in my bedroom on my dodgy mac!
Having various celebrities endorsing me on Twitter. The most bizarre moment was waking up one day and discovering that Jamelia had tweeted the
'Friendship Detox
'.
Seeing this video (forward to the 1.40 mark lol) and discovering that what I do is connecting with people that I've never met.
Singing backing vocals for N Dubz on the Jonathan Ross show
Playing piano at the Royal Albert Hall (which was on my list of things to do before I die…)
And meeting incredible people and having the opportunity to gain insight from them.
Then there were the lows
Losing friends…
Being let down by people I expected more from…
Letting myself down….
The hugest low occurred a few weeks ago when I lost someone who I loved dearly. This aunty was an amazing woman and full of kindness. Her death hit my family hard, because whilst living she lavished us with love. She did thoughtful things, like send me perfume in the post for my 20th birthday (even though she lived thousands of miles away). Her untimely death and the admirable way in which she lived her life, was a stark reminder to live each day to the full and appreciate those I love whilst I can.
This year has been far from perfect. But it's been the year I needed to have. If I had a choice, I would have opted out of it. Yet in retrospect I realise, it was all character building. I've learnt so many useful lessons (I've touched on those lessons briefly in posts like
this
, so I won't rehash what I've already covered) and for that fact alone I'm pleased with my year.
Anyway! Before I bid you all farewell for the year, I would like to say….
Words can't really express how grateful I am to all of you for your support! You know I hate Oprah moments, but a lot of good things have happened this year, due to your support and encouragement. The comments, emails, Facebook messages, tweets, all of it is really appreciated. I am nowhere near where I need to be and in the broad scheme of things my achievements thus so far are but a speck. However you have all chosen to get behind what I do and helped me immensely. So thank you, thank you, thank you!
I have absolutely no idea what 2010 will bring but stay with me and together we'll find out!
I hope you all have an amazing Christmas and an incredible new year.
I'll be back on January 4th!
2010….Let's Go!!!!
Peace, Love and Courage
P.S I'd like to say a special thank you to my parents, three little sisters and special friends, without whom I would have definitely quit this year. Love you all xxx
Oooh! And before I forget, that amazing website,
Find Me A Dress
, now has an iphone application available on iTunes. You know I co-sign anything that makes shopping easier!