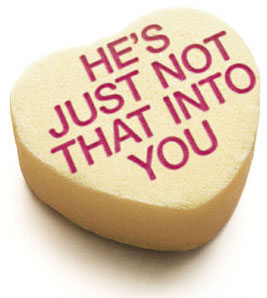 I was quite reluctant to write this 'rant'. Just because I don't want this blog to be pigeonholed as being for 'women only'. This is a blog for men, women, transgendered, confused and jaded folk alike.
However! Two things made me change my mind.
1) A request from Danna (hiya!!!) which I took as a sign from the universe
2) My own selfish reasons
Normally when I write a rant I'm pretty much 95% convinced about my hypothesis. Well this time, I'm not at all sure. I'm actually only about 60% sure. This is because I still haven't been able to fully comprehend the male species. Moreover the rise of the 'heterosexual man bitch' (a whole other rant) has meant that my signs could possibly be completely inaccurate.
This is where my own selfish intentions come into the equation. I would like men (and women) to comment on any signs that I may have missed out.
10 signs he'd rather punch himself in the neck than be with you….
1) He never phones you/ calls you back
I think this is pretty self-explanatory. However common sense is now extinct so I'll have to expand on this point. If he never phones you and always 'forgets' to call you back. He doesn't like you. In fact when your name flashes up on his phone, he grimaces then puts his phone right back in his pocket.
Please don't think for a moment that when he does pick up your calls it is a sign of hope. No my dear, he only picked up because in that moment he forgot how much he dislikes you.
By the way, I haven't included texts because if he doesn't like you, he won't even bother to type a sentence in your honour.
2) Name Trouble
If he has forgotten your name on more than 2 occasions and hasn't made the effort to find out your surname…you're about as desirable to him as a used toothpick.
3) He won't be provoked
Women enjoy arguing, men don't. However if a man likes a woman enough, he'll entertain her antics. So if a woman is constantly trying to spark a passionate argument and a man looks amused as best. He couldn't care less.
4) You haven't met a single friend
If you've been talking/with a guy for more than 3 months and you haven't met a single one of his friends, he doesn't like you. The chances are, behind your back he calls you Batgirl. And not in the sexy superhero sense. Girl, he thinks you look like a bat.
5) It seems like he's not listening
If you have ever had to say to a friend 'it's like he's not listening to me', it's because he's not. In fact he's so repelled by your presence, his body radiates an invisible shield that blocks sound waves that come from your mouth
6) Complete lack of concern
If you call him and say " oh my gosh you wouldn't believe my day", tell him a truly tragic story, end your story with the line "but thank God it's not cancer" and all he says is "erm, so…"
It's not that he has trouble expressing deep emotions or showing that he cares. He doesn't like you. Furthermore he is silently cursing himself for forgetting to save your number as "DON'T PICK UP".
7) He's only paid for ONE thing
Ok I may be wrong about this one (men do correct me if I am) but I have got the impression that (most) men like to spoil women they like. So even if their net worth is 500 pence, they will do all they can to project the illusion of wealth. Basically his budget is ShoeExpress but he will front like it's Jimmy Choo.
It follows, that if he has only paid for one thing.
It could be a penny sweet or it could be Nando's quarter chicken with two sides……. If he's only paid for one thing, chances are he wishes you would evaporate.
Now if the one thing was a cab. And it happened to be when you were at his house and for some reason he was very anxious for you to get this cab as soon as possible, so anxious he offered to pay for it. You my dear are his bit on the side, his girlfriend was on the way.
8) He doesn't know when your birthday is
Never in my life have I met a grown man who clapped with glee/seemed visibly moved after being presented with a birthday cake. So I am aware that men don't attach the deep significance to birthdays that women do.
But! If a man isn't even aware of the month in which your earth day falls. It is time for you to start playing mediocre R&B songs that make you feel like everything will be ok * cue Irreplaceable *
9) He never makes a move
If to do anything of sexual nature, you have to near molest him, it's not because he's shy or tired. I do suspect it's because he finds you repulsive.
10) He speaks to 'her' in front of you
As women enjoy disliking other women for the sake of it, the chances are there are at least 3 women in his life that you're plotting to get rid of. You have also made him aware that you pray daily for these women to be deported to Baghdad.
Now 'her' could be anyone.
His female 'best friend' that makes you sick.
The ex girlfriend that you're ashamed he's associated with.
'Her' is just code for the enemy.
So! If he speaks to 'her' on the phone when you're in the room, not only does he not like you, but 'her' has ensured soon you will be history.
Or have I got it wrong? Enlighten me!
Peace, Love and Hollywood (waxes) are Barbaric
xxx